Motivation and development of employees
Motivation and development of employees
We see the potential in each of the several thousands of the Group's employees. We want to motivate them and invest into their personal development.
Employee development
Employee development

participation in new projects and tasks

knowledge sharing

trainings
Interesting facts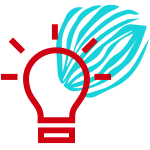 We invest into development of our employees. Development process is based on the 70-20-10 rule
70

development through experience (tasks, involvement in projects)

20

development through relations with others (knowledge sharing, feedback, coaching, mentoring)

10

development through participation in trainings
Crowd+ Program operates in Cyfrowy Polsat Group The fundamental goal of the program is to support the culture of openness and innovation, acquisition and development of valuable business ideas and participation in the management process.

Best practice
CROWD+ Program | Continuation
Crowd+ Program in the years 2018-2019:
over 600 proposed ideas in total, out of which:

10% have been already implemented as projects or are under implementation,
1st edition of the Innovation Academy in 2019 (an original talent management program)
Training and professional development
We offer traditional training courses (external and internal), providing an opportunity of gaining or improving employee qualifications, as well as an increasingly extensive offer of online training courses.

Best practice
Academy of knowlege | Novelty 2019
Launching of the Academy of Knowledge (a new training platform for the employees and associates of Cyfrowy Polsat and Polkomtel:
free development training sessions (e.g. Creative Thinking Training, Team Management in a Changing Environment),
mandatory e-learning trainings (Work Safety, GDPR),
facultative basic training (e.g. MS Office package (Excel, Power Point, Outlook), Problem solving and decision making),
over 22 thousand hours of training,
start of the preparations for creating an onboarding program in the form of an e-learning course for new employees of various levels.
Average number of training hours per employee
Polkomtel1 i Cyfrowy Polsat
TV Polsat
CP Group
Women
Men
Total
Women
Men
Total
Women
Men
Total
Total number of training hours by gender
47 957
61 143
109 100

2 113

4 514
6 628
50 070
65 657
115 728
Average number of training hours by gender
21.04
18.63
19.84
9.24
9.38
9.34
19.87
16.7
18.64
| | | | |
| --- | --- | --- | --- |
| | Polkomtel1 i Cyfrowy Polsat | TV Polsat | CP Group |
| | Women | Men | |