We take advantage of our business opportunities
The most important business opportunities are presented below:
low penetration of multi-play services, in particular in low-urbanized areas,

growing importance of convergent services,

development of the Internet access market in Poland,

growing market of new technologies and equipment and the resultant increase in access to and consumption of audio-visual content,

changes in pricing of mobile services,

growing demand for smartphones and data transmission,

development of the advertising market in Poland,

growing importance of thematic channels.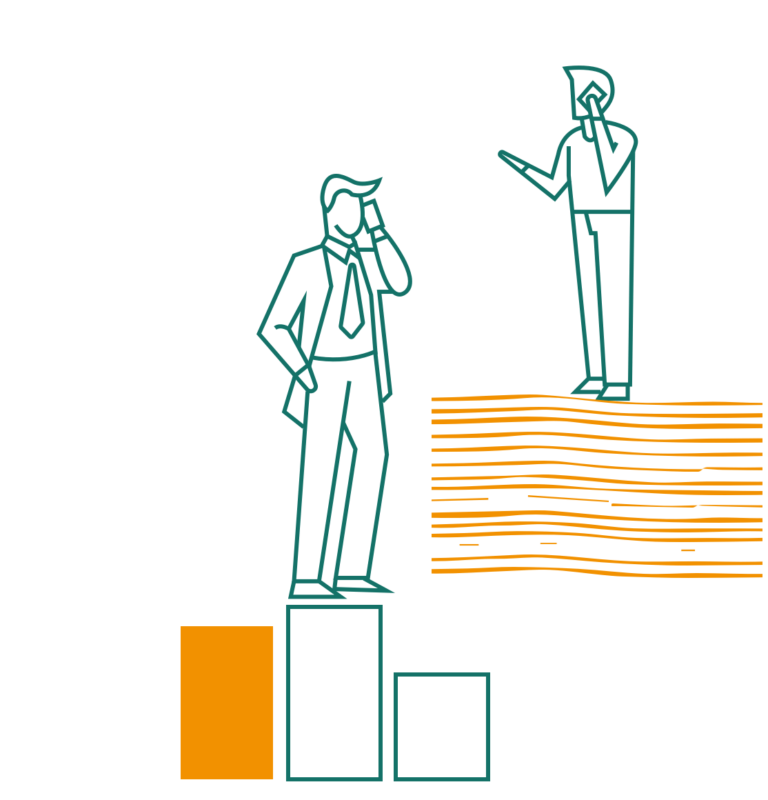 We analyze risks in detail
We understand business risks accompanying our operations. We also analyze the risks in the area of ESG (Environmental, Social, Governance) related to social, employee, environmental issues, respect for human rights and preventing corruption. The most important risks identified by us are as follows:
Key Risk Factors ESG (selected examples)
| Risk area | Key risk factors | Polsat Group | Cyfrowy Polsat | Risk management method |
| --- | --- | --- | --- | --- |
| | Losing the reputation of brands | | | We regularly monitor the satisfaction level of our customers. We cooperate with industry media and general media in order to build a positive image of our brands as well as consciously manage the relationships with our customers and business partners. We regularly monitor discussion forums and social media in order to recognize possible negative phenomena and eliminate false information regarding our main brands.We also publish the "Brawo TY" magazine, addressed to our subscribers, whose goal is to educate subscribers in the field of new technologies and our services and also to positively expose our brands |
| | Lack of possibility to effectively maintain and upgrade the telecommunication network and offer our customers attractive products and services in the areas threatened by digital exclusion | | | Inhabitants of small towns and rural areas have limited access to entertainment and education and so we provide them with an attractive offer at an affordable price. Universal Internet access is one of the biggest challenges of the information society of Poland and Europe at the moment. Thanks to the investments into frequency, infrastructure and dedicated equipment, we have created the possibility of access to fast speed Internet even in areas where there is no network coverage of other operators, as well as to entertainment and education thanks to television. |
| | Failure to maintain, extend or modify the distribution and sales network | | | We strive to build a diverse distribution network (stationary sales, tele-sales, online sales, door-to-door channels) in order to diversify our sales channels. In each sales channel we cooperate with many partners, avoiding monopolizing of any channel by one strong partner. We also strive to protect our distribution network by taking over lease agreements for specific locations of points of sale which are crucial from the point of view of our business. We support our partners operating the sales network in local promotional activities and share our knowledge with them. We organize attractive programs of rewarding the best sales representatives working in our sales channels. |
| | Insufficient protection of intellectual property rights | | | Within the concluded agreements we regulate the issue of obtaining rights, we regularly monitor the term for which the licenses have been granted, we verify the necessity of obtaining intellectual property rights in each project, and we contractually regulate the liability of entities granting rights for their possible legal defects. |
| | Risk of fraudulent activities by our customers, in particular in relation to telecommunications and pay TV services | | | We constantly monitor the usage generated by SIM cards registered in our systems, looking for any unusual traffic, voice, SMS or MMS patterns, which might signal a risk of fraud. If such a case is identified, we immediately take steps to prevent further stream of suspected illicit traffic. We constantly monitor whether the intellectual property rights and anti-piracy measures and safeguards protect us against illegal access to our services and theft of our programming content. In case of detection of this type of fraudulent activities we take necessary legal actions. |
| | Alleged health risks of wireless communications devices leading to decreased wireless communications usage or increased difficulty in obtaining sites for base stations | | | We undertake educational activities with the aim to dispel possible concerns. We participate in local initiatives whose purpose is to transfer current knowledge to inhabitants of the areas in which we may possibly build our base stations. We strictly control signal strength on individual transmitters in order to meet the requirements of relevant standards for electromagnetic field emissions. We are actively involved in industry discussions accompanying legislative processes regulating the electromagnetic field emission standards. |
Risk area
Key risk factors
Polsat Group
Cyfrowy Polsat
Risk management method
Delays or lack of delivery of services, infrastructure or equipment and components from external suppliers

We strive to cooperate with more than one supplier of each type of equipment or elements of our infrastructure. We develop mid- and long-term roll-out plans for our infrastructure which are then communicated to our main suppliers in due advance, which enables them to prepare the components we need within the agreed deadline. We prepare in advance plans for the delivery of end-user equipment and monitor delivery schedules on an on-going basis, while maintaining an optimum level of inventory turnover in the warehouse and in the sales network. We secure ourselves against delays in the delivery of services and equipment by applying financial penalties in agreements with suppliers.

Operational flexibility, agility and independence from external suppliers were the decisive factors behind a decision to establish our own set-top boxes factory in 2007, which now functions within InterPhone Service, a company belonging to our Group. Furthermore, since 2018 a state-of-the-art logistics center has been operating as part of this company which caters to the needs of the entire Group and allows for highly effective and efficient managing of the distribution of products across the entire sales network, taking into account various sales channels and their characteristics.

Network and broadcasting infrastructure, including information and telecommunications technology systems, may be vulnerable to circumstances beyond our control that may disrupt service provision

We strive to have redundant resources of the broadcasting, telecommunications and information technology infrastructure, in order to prevent or limit negative consequences of any emergencies. We have introduced and constantly maintain a Business Continuity Plan focused on the examination and early detection of risks in processes and services which are critical from the point of view of our operations. The impact of selected threats is minimized through early implementation of relevant recommendations and remedial measures to our processes and procedures.
Risk area
Key risk factors
Polsat Group
Cyfrowy Polsat
Risk management method
Losing managerial staff and key employees


We strive to ensure the attractiveness of remuneration and incentive systems for our key employees and managerial staff. We conclude clauses extending the notice period or non-competition clauses with selected employees. These clauses, among others, are intended to secure sufficient response time for us in order to prevent the loss of these employees. We support the development of key employees and managerial staff by offering them specialist trainings, MBA studies and other forms of professional trainings, while building their involvement and identification with the company.

Disputes with employees; growth of labor costs

We take care of good relations with our employees and make sure that we meet all obligations of an employer under applicable labor laws. If a dispute arises, we always strive to start a dialogue in order to work out a compromise in the dispute with an employee. We have an Anti-Mobbing Policy and an efficient Anti-Mobbing Committee in place. We take good care of partner relations with employees' representatives, maintaining constructive dialogue with trade unions existing in our companies.

Accidents of employees and sub-contractors

We regularly train all our employees with respect to general Occupational Health and Safety regulations, as well as specific requirements for the scope of duties performed by them. We ensure an appropriate level of safety at the workplace, as well as high quality of equipment and clothing guaranteeing the safety of our employees and sub-contractors. The Civil Defense Formation operates within our structure which includes over 100 employees trained in first aid.

Reputation and financial risk in case of bribery and corruption

We regularly analyze the risk of corruption. We try to implement mechanisms which prevent or mitigate the risk of corruption, including by introducing a Code of Ethics. We strive to observe segregation of duties related to making specific decisions, for instance through a multi-level and diverse path of approval of specific decisions.


Market and macroeconomic environment

Exposure to the effects of regional or global economic slowdown

We strive to diversify our business activities into several areas and conclude contract agreements with our customers, which as a rule stabilizes our revenues in the mid-term. We try to offer services with a good quality-to-price ratio, which in our opinion will mitigate the possible adverse impact of any economic slowdown on our financial results.

Legal and regulatory environment

Risk that the Polish Office of Competition and Consumer Protection (UOKiK) deems the practices we use as limiting competition or violating the Polish competition and consumer protection laws

We continuously analyze changes in the law which have implications for our market activities. All regulations, price lists and advertising campaigns prepared by our marketing departments are subject to verification and approval by our legal department. We monitor the judicial practice of the Office of Competition and Consumer Protection (UOKIK) in order to adjust our activities to the guidelines defined by the Office.


Legal and regulatory environment

Unfavorable rulings in administrative or court proceedings

We invest in the knowledge of our lawyers and we cooperate with specialized law firms which ensure the highest quality of legal service of proceedings in which we are involved. Our in-house lawyers constantly monitor the judicial practice of courts or administrative bodies. We actively monitor the status of proceedings and participate in all meetings and hearings related to the proceedings in which we are involved. If an unfavorable ruling is issued, we analyze with due diligence any appeal measures or methods of ensuring compliance with the recommendations of the relevant bodies or amicable solving of the dispute in cases in which there is a risk of upholding an unfavorable ruling by instances of appeal.

Legal and regulatory environment

Risk of violation of Polish and EU law regulating our operations on telecommunications, pay TV and television production and broadcasting markets, as well as possible sanctions and fines resulting from such a violation

We invest in the knowledge of the employees of our legal departments who are responsible for the implementation of new legislation pertaining to our business activities. We cooperate with specialized external law firms and consulting companies in order to support the organization in more complex projects. We actively participate in the activities of industry organizations which are involved in discussions with legislators and market regulators, in order to determine in due advance the scope of new legal obligations which may concern our activities.

Legal and regulatory environment

Risk of violation of personal data protection law or requirements specified by the General Inspector of Personal Data Protection, as well as possible sanctions and fines resulting from such a violation

We invest in the knowledge of the employees of our department dealing with personal data protection issues. We cooperate with specialized external law firms and consulting companies in order to support the organization in more complex projects. We invest in IT systems the aim of which is to restrict access to sensitive personal data of our customers only to justified cases and according to valid internal procedures. We continuously monitor the process of data processing of our employees, customers and subscribers and verify the legal basis for executing specific business goals of our company.
Na bieżąco monitorujemy proces przetwarzania danych osobowych naszych pracowników, klientów i abonentów oraz weryfikujemy podstawy prawne do realizacji określonych celów biznesowych naszej spółki.

Legal and regulatory environment

Risk of violation of Polish and EU law regulating in particular information obligations of the issuers of securities as well as possible sanctions and fines resulting from such a violation

We invest in the knowledge of the employees of our department dealing with investor relations. We cooperate with specialized external law firms and consulting companies in order to support the organization in more complex projects. We regularly participate in conferences and trainings organized by institutions specializing in the field of information obligations, e.g. Polish Association of Listed Companies (Stowarszyszenie Emitentów Giełdowych).
Main market trends
Main trends which we believe to be likely to have a material impact on the Group's development prospects, revenue and profitability before the end of the current financial year include:
high level of market penetration with services provided by the Group as well as a high level of competitiveness of the markets in which we operate,

bundling of media and telecommunications services, as well as services from other sectors,

stabilization of competition on the mobile telephony market, which is reflected by the declining volume of numbers ported by customers between networks,

growing demand for data transmission and high-speed broadband connectivity,

growing smartphone penetration among mobile network users,

growing consumer requirements as regards the advanced functions offered by end-user devices,

changes of mobile service pricing, coupled with simultaneous increase of the size of data bundles

 

as a result of growing demand for data transmission on smartphones and due to future investments in the 5G standard,

development of state-of-the-art fixed broadband networks, fiber optic networks in particular (FTTH),

dynamic development of non-linear video content, distributed via VOD and OTT services, accompanied by growing online ad spending,

steady increase in users' willingness to pay for video content online, in particular in case of payments for content on a subscription basis,

entry of global VOD and OTT players to the Polish market,

growing cost of TV content production,

increasing sales of smart-TVs,

technological changes in provisioning pay TV services as a result, among others, of growing consumer expectations regarding delivery of content in the non-linear model,

further fragmentation of the television market (growing share of thematic channels in audience and advertising revenue),

progressing consolidation of the pay TV market, in the cable TV segment,

consolidation of the telecommunications markets, manifested by acquisitions of local fixed-line operators by larger telecommunications groups,

ownership changes in the broadcasting and television production market.
Awards as a sign of appreciation
We are pleased that also independent experts notice our efforts. We treat this as the confirmation of the quality of our daily work, also in the area of corporate social responsibility. In the year 2019 we received numerous awards, including:
An award for investor relations
1st place for Cyfrowy Polsat in the survey related to investor relations among WIG30 companies, which was conducted by "PARKIET Stock Exchange and Investors" daily and by the Chamber of Brokerage Houses.
Listed Company of 2018
2nd place for Cyfrowy Polsat in the annual ranking of "Puls Biznesu" business daily in the Investor Relations category. Cyfrowy Polsat was also awarded a distinction in the Main Ranking which includes 120 companies from all the major indexes on the Warsaw Stock Exchange. The competence of the company's Management Board was also highly appreciated.